Summer Safety
This week is the last week of school for my son, Karson. We have survived Kindergarten and are very excited for summer! I am sure everyone looks forward to summer but I think all Western Oregonians are a tad bit more excited since we are more sun-deprived. I have lots of fun summer activities planned for the kids and the family: blueberry picking, gardening, sun-bathing, playing in the sprinkler, the pool, fishing, day-camps, family camping trips, the list goes on….
Growing up I don't remember my mom stressing as much as I do about sunscreen. Maybe it's because I have a darker skin complexion and while I do sunburn it is not very easily. My parents did stress wearing a hat and being in shaded, cooler areas when hot. My husband has family members that have had skin cancer. I definitely lather up my babies in sunscreen lotion. I have used the sunscreen spray but I have asthma and aerosols irritate my lungs. I prefer the water-resistant lotion. My six-year-old Karson likes to wear sunglasses and a hat.  It is really important to stay hydrated with the heat and I am more aware of that for my little one, Samuel. Samuel who is one, and will be two in September, gets consumed in play. I make sure he drinks water to stay hydrated.
Karson has taken various swim lessons and he is pretty safe around water. Samuel is at the stage of exploring and is a bit fearless. He definitely keeps us on high alert. Karson wanted a big pool but we bought a small kiddie pool that is appropriate for Samuel. I compromised with Karson and we put a few swim dates on the calendar. Karson likes a visual to see that we are going to do something. If something is on the calendar then its "real" to him. My husband and I talk about safety to the kids and the reasons behind precautions to help them understand.
A few tips/reminders on being safe this summer: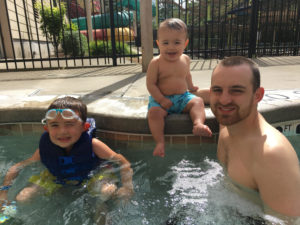 Wear Protection- Sunscreen, sunglasses, hats
Stay Hydrated- Drinks lots of fluids, make ice-pops with the kids (add fresh fruit to make it fun)
Stay cool- Make sure your AC is working well, stay in shaded spots
I hope you all stay safe this summer! Have lots of fun, make awesome memories and enjoy your time with your loved ones!