Continuing to Grow
Is there anything lovelier than springtime in Oregon? Well, it maybe lovelier if we weren't in a pandemic? Although I have had more time to slow down and take in all of the lovely growth in foliage around me. In addition, my family and I have been logging in plenty of hours outside – doing yard work, prepping the garden, and planting as many flowers that I can!
A few years ago, my husband and I purchased a fixer-upper house in the countryside near where I grew up. I love the area where I live but projects are vast. It is a bit of a challenge fixing up a house while living in it with small children. It is possible – it just requires planning, coordination, and big doses of patience.
I am very excited about our garden because it's one of the more fun projects. Gardening is an activity for the entire
family! When we first moved into our home, the garden was near the backside of the house.
During our first summer living here, I planted my first garden, but unfortunately it was not a good location. For the first half of the day, half of the garden was in shade. Therefore, half of my garden was a success, and the other half struggled.
Last summer we had a long list of projects to work on, including the area where we wanted our garden, which needed some work. In the last year, my husband has cut down a few trees and overgrown bushes, and cleared then rototilled the ground for the garden.
Recently we went to Home Depot to pick out some house material and there was a seed display in the garden center. We let our sons each pick out a seed pack to plant in the garden and harvest. Both of my sons were so excited to pick out their seeds. The seed display was a turning one and they boys browsed through ALL of the seed packets. They took their seed-picking pretty seriously.
My oldest son, Karson, picked out watermelon seeds. But they were not just any watermelon seeds – he chose the watermelon seed packet that had the biggest watermelon on the front image. My youngest son, Samuel, choose carrot seeds. Samuel's favorite movie is Peter Rabbit. He thinks the rabbits are so cute and he admires the rabbit's love of carrots.
When we got home, we read all about when to plant the seeds, how long they take to germinate, and when to harvest. It has been a very educational experience, including learning about what USDA zone we live in and talking about types of soil and the nutrients it provides.
I am very excited to have a garden project for the entire family. Many of my friends and family have shared about the house projects they have been working on, including gardens. It makes me happy to hear about their gardens because I believe gardening has so many amazing benefits. It provides joy, cultivates patience, and gives us a deeper appreciate for our food.
When I have grown my own vegetables in the past, I'm way more excited and motivated to cook and bake. I love to cook and bake, but harvesting my zucchini and making a fresh loaf of zucchini bread takes it to another level. Plus, my boys are so looking forward to going out to the garden to pick their snack!
Here are some ideas of child friendly garden plants:
Snow peas
Cherry tomatoes
Radishes
Strawberries
Blueberries
Cucumbers
If you don't have a lot of ground space for a garden, there are many different ways to successfully garden, like in containers. In the past I have grown tomatoes this way. Container gardening has easier maintenance, like less weeding. Most of my flowers are in containers as I don't have a lot of extra time to weed large garden beds. Here are some ideas on a container gardening: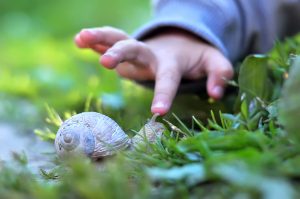 Container Gardening – Top Tips for Success
Vegetable Container Gardening for Beginners
Container Gardening with Vegetables
We live in a lovely area with a great spring and summer! Gardening is such fun and fruitful activity. Some of my best childhood memories with my mom are around gardening. I was the garden helper and now look forward to making memories with my two garden helpers.
There are plenty of websites that are entirely dedicated to gardening with child. Here are some that I found:
I hope that we all continue to grow during this time. That reminds me – I should go work on my garden as it still needs work. Until next time!