Looking Forward to Fall
I used to think that I had a distinct favorite season, but I'm starting to realize that I just like it when the seasons change. I find the time so exciting. There is just so much to look forward to with each season and right now I cannot wait for fall. From the second I started feeling those chilly breezes, I had pumpkins on my mind. So, I thought it would be fun to list all the activities I'm looking forward to this season before I explode with excitement.
Taking Delilah to the Pumpkin Patch
I never used to go to the Pumpkin Patch every year before I had a baby. But now I want Delilah to have as many fun memories as possible, so I added it to our fall traditions last year. I can't wait to go again as we had so much fun as a family and it's only going to get better each year as Delilah is able to do more of the activities.
Baking all of the things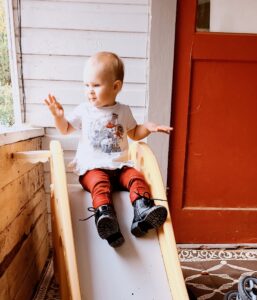 As I write this section I have pumpkin spice sugar cookies on the counter waiting to be decorated. Fall is my time to shine in the kitchen. I love baking and after the heat of the summer, I always get the oven going as soon as the weather starts to change. Now that Delilah is getting bigger, I'm trying to get her more involved while I cook. I've always said that when I had a baby someday, they would be in the kitchen with me learning how to bake as soon as possible. It's also a great excuse to make us matching aprons!
Soup
Similar to baking, I'm always excited about the beginning of fall because that means I can finally eat soup again. Especially when I can pair it with freshly baked bread, soup is just such a comforting meal. I want to find a way to share this love with Delilah. We kind of started last night by giving her just a small container with a thin layer in it. We made homemade tomato soup (made for us by grandma), with grilled cheese sandwiches last night so we gave her just enough to dip her sandwich in. I swear I started giving her cereal with milk for breakfast in the mornings just to get her ready for soup.
Halloween
Last year we actually didn't do too much when it came to actually celebrating Halloween in the name of safety with Delilah being so little. We're kind of waiting to see how things are this year when it comes to trick or treating and whatnot, but what I do know is that Delilah needs a costume regardless. I couldn't find a costume to buy that I loved, so I decided to crochet her one this year. Wish me luck! If I start now I might finish it in time. I wanted to do a family costume theme but didn't want to spend a fortune so we went with the theme of witches rather than Alice in wonderland like I originally wanted. Lilah was going to be the Cheshire cat, but we will save that one for another year.
Fall Themed Crafts
With Delilah getting bigger, I've been wanting to add a little more structure to her day with planned crafts and activities. The beginning of a new season is the perfect time to do crafts, and I think that fall is especially good for crafting. We can decorate paper pumpkins, make spooky ghost puppets, and do nature crafts with the falling leaves. We've already bought out Dollar Tree for fall craft supplies and we'll probably need to head back soon as I come up with more ideas!
Now I can never say for sure if we'll get to every single activity I have in my head, as sometimes life happens and we need an extra nap instead, but I am so excited for the coming months. When it comes to activities and celebrations September – December has to be my favorite time of year!