The Voice for the Voiceless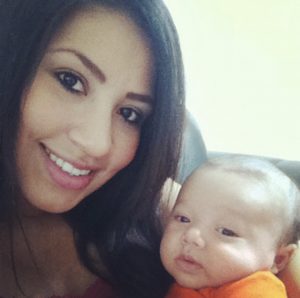 I've blogged a lot about being a parent, but I'm also the Parent Engagement Coordinator for the EL Hub. When people ask, "Why do you do the work that you do?" I think about the courage and hope it took to grow from a young woman with an unplanned pregnancy into a person who can make a positive difference in our community. This year, I will continue to embark on the journey of creating a life worth living for myself and my loved ones. It wasn't very long ago that I had to overcome obstacles and alter my perspective and outlook in life.
When I was a very young adult, my immediate family was struggling through big challenges. I felt pretty lonely, and without a good support system or mentors, I engaged in mainstream college-culture activities, which led to an unplanned pregnancy. It was a big reality check as to how the choices you make steer your life in certain ways. With a baby on the way, I had to figure out how to shift my focus and create a healthy environment for my little human to grow and develop. I signed up for prenatal yoga and then a knitting class to make my baby a pair of handmade booties. Things don't always go as planned. I ended up making a potholder instead, and I ordered hand-knit booties from Etsy. Before we knew it, Kody and I were deep in reading the latest information on pregnancy on how to be a "good parent." Kody and I had SO much support, and together we decided to "get our lives together" by pursing better paying jobs, purchasing a house, and by giving it our best shot at parenting. All of it helped ease the fear and the unknown.
Courage and hope changed my life in every possible way.
After being a parent for a while, my family and I faced a heaping mound of challenges once again. Although I needed to take care of myself and my family, I only had the strength to solely focus on my son. I decided to quit my full-time job that paid well in order to spend more time with him. I toyed with the idea of being a stay-at-home-mom. It was difficult, our income was a lot less, and we made some significant sacrifices. Looking back, I know I was struggling with depression. Regardless, I knew that for that time and place, focusing on my son was the right decision.
There was a parent-child craft series called Squishtivities, and we joined the fun. A lovely woman named Janeece asked if I was bilingual and interested in a part-time job. I let her know that I did not have childcare. She assured me that the position was mom-friendly. I was sold! Ten hours a week, and I could bring my son? Why not!
My work began with community outreach and, more specifically, serving the Latinos in the community. The best thing I learned was that serving others was so healing. Regardless, some people criticized me for helping Latinos as if they did not deserve the help. That was discouraging, but I came to realize that the general public (which, in Oregon, is predominately White) is unaware of the real systemic, racial, and cultural barriers that this population faces. I knew about these barriers, however, and the challenges these folks face from growing up with them myself, so I could empathize, understand, and most importantly, help problem-solve.
When my son started preschool, and soon thereafter when my second son was born, I naturally shifted gears toward early learning and serving high-risk populations. My journey to getting my current position has been humbling because people have really believed in me and offered me opportunities to grow. I met people that were gracious, loving, and did not judge others. They listened to understand.
Because of all the wonderful people in our community, I can confidently voice my struggles and advocate for all of the mothers, children, and families that are not empowered to do so. I empathize with the broken, in-need, and poor because I understand what it is like. I will always remember the people who were there for me when I felt shame and emptiness.
I hope that every single person can own their story of struggles, not judge others or themselves and offer grace, believe in the broken, and help others when possible.
I can humbly say that I am thankful for my reality checks, my struggles and the opportunities to grow to genuinely care for others. Alas, I can say that motherhood has been a beautiful journey thus far and makes me a better human.
Cheers to courage and hope for a solid 2019!