Evacuation and the Threat of Wildfire
In light of events this week, I wanted to share my experiences living in a zone that was threatened by the Holiday Farm Fire. My heart goes out to the families who have been impacted by the fires burning throughout Oregon. I am humbled by the strength of our communities working together to help each other during evacuations. Also, I'm grateful for the emergency alert system keeping us up to date and helping us to prepare to evacuate.
I live in a small, rural community along Hwy. 228, near the Calapooia River. This whole week has felt so crazy and as if these huge fires came out of nowhere.
I remember getting the first emergency alert about high winds last Monday while I was in Hobby Lobby picking up some yarn to make a fall dress for Delilah. Later that afternoon back at home, while Joshua and I were cleaning up in the yard, I joked with him that it was so calm considering we were supposed to have record high winds. Literally minutes later the trees started blowing and dropping fir needles all over the place.
It also didn't take long for the air to become thick with smoke. I knew there were wildfires burning in other areas of the state, but I wasn't aware of one close by.
There's always one thing we can count on living in a rural area with any kind of difficult weather and that's the internet or the power going out. Within 45 minutes of the wind picking up the power went out and we were left in the dark for the night.
The power was back the next morning but now the internet was down, so we decided to head to a friend's house in Albany and to get some work done and figure out what was going on.
At this point we weren't aware the Holiday Farm Fire, which started south of us in Lane County, was spreading into Linn County due to the high winds. We didn't learn of the fire until the alert that our area was on a Level One Evacuation Alert, which means "Be Ready" to evacuate.
It was pretty scary trying to figure out what to do because we weren't 100% sure where the fire was and which direction it was heading. Within the hour, we finished up the work we were doing and headed back home.
The scariest part was how quickly the danger was growing. During our 30-minute drive home, our area was upgraded to a Level Two Evacuation Warning, which means "Be Set" with needed items to leave or leave in preparation.
The sky was rapidly growing darker even though it was only around 4:30 in the afternoon. At this point I wasn't even sure if we would have time to pack much when we got home. We were ready to grab the animals and head back to Albany if that's what we had to do.
We had started to question if we should have left Delilah and I at our friend's house where it was safe while Joshua and my mom gathered supplies at home, but turning around might keep them from making it to the house before roads started closing.
When we got home we all ran inside and I put Delilah in her highchair with some toys so I could back our things as quickly as possible.
While packing and trying to figure out what was needed for Delilah, I kept repeating two things in my mind: "What can't be replaced?" and "What do we need to survive?" I packed a small bag of clothes for myself, mostly clothes damp from the dryer because I had started the laundry earlier that day. I really didn't pack much for myself other than my contact lenses and my glasses. I kept telling myself everything else like toiletries and anything else could quickly be picked up from almost any store.
We already had all our important documents together in a folder so that was easy to grab. While we packed, our friends called to say they were coming over with their truck to help us transport what we needed to their house. We also decided that regardless of evacuation level Delilah and I would head to their house in Albany so everyone could rest easier knowing she was safe.
Family members in California were also calling to check on us, and it was difficult to pack and answer phone calls from family members wondering what was going on but I'm grateful for their concern for us.
For Delilah, the number one priority no matter where we would be is feeding her, of course, so I started by packing her bottles and my pumping supplies. I was thankful to have a few jars of baby food to throw into the bag with her bottles, too.
Next, I went to Delilah's room and stuffed as many warm jammies and onesies as I could fit into her diaper bag. I grabbed a new bag of diapers and a travel size pack of wipes to get us by until we could make it to a store. After I had the essentials I could breathe a little bit and think about other things I didn't want to lose.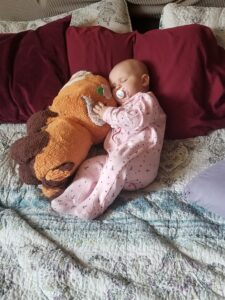 At this point, I grabbed the baby quilt my Grandmother made Delilah, the book we had custom made for Father's Day, and my wedding ring (I had switched to a silicone band after having Delilah for comfort and until I could get my ring resized).
Then came the hardest part of packing – the idle time between packing the important things and our friend's arrival. I was just standing in Delilah's nursery trying not to cry as I thought about losing everything.
My mom and Joshua used this time to pack more things, like Delilah's highchair, and they had to convince me we had room for it as I was repeatedly chanting, "It can be replaced."
By the time Delilah and I got back to our friend's house and unpacked, I was exhausted. We had a little something to eat and then I spent the rest of the night trying to find more info on the fire.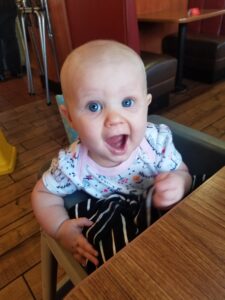 We spent two nights at our friend's house while our house remained at a Level Two notice. Half the time I felt like I should be at home waiting with my family and the other half I felt like they should grab our animals and stay in Albany with me.
It was hard to gauge how we should be reacting when there were no updates on the fire getting closer but at the same time it remained 0% contained. Plus, I could literally throw a pine cone from our house and it would be in the Level Three Evacuation Warning, which means, "Leave Immediately!"
After two days, we decided to leave the majority of our stuff at our friend's house and Delilah and I would head home to be with our family. If the situation got worse we would just load ourselves up and come right back.
It wasn't until Sunday morning that our area was downgraded to a Level One warning and we could finally let ourselves relax a bit and breathe – not literally though, it's still really smoky.
After facing the little bit of panic like we did, I could only imagine the stress and pain felt by the families who lost their homes. I am forever thankful that my family is safe and that we have such amazing friends to help us during this stressful week.