Delilah's First Birthday
Last week my sweet little baby turned one year old! It's crazy how fast time has flown by. I can hardly believe how much she has grown right before my eyes from my little 7lb cuddle bug to a walking, practically talking kiddo. She has developed such a personality too, from her tastes in music, to likes and dislikes of food, to how she loves her pets more than anything.
Friends and family have asked me for months what I was going to be doing for Delilah's birthday and for a while I didn't know. I didn't really want to throw a party for her, not because I didn't want to celebrate her birthday, but because I didn't know who to invite. Most of our family and friends live out of state and our family and friends here in Oregon are all adults. It didn't really make sense to me to throw a kid's birthday party where Delilah was the only kiddo. There were also the added complications from COVID-19 to consider.
In the end I decided against a party. We could do cake and presents for Delilah at home and then take her to a park to play for as long as she wanted. That way we were outdoors if anyone wanted to see her. I can throw her a huge party when she is older and can remember it and a simple day meant I could spend more time with Delilah.
However, our plans ended up changing as we got closer to her birthday. In the past months, Joshua had been working on enlisting in the military (he had some retained hardware from a previous surgery that made things more complicated). In the past few weeks things have progressed quickly and he finally had the all clear to go to boot camp. The only issue was that his scheduled ship out date was the day before Delilah's birthday. It was unfortunate, but he had been working so hard to accomplish this, so we decided to make the best of it. We decided to celebrate her birthday early so her dad could spend the whole day with her before he left.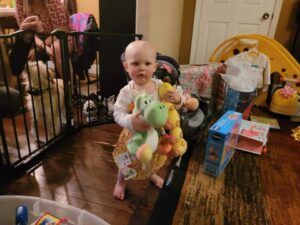 At the same time, Joshua's family in Idaho was planning a potential visit. They originally planned to visit a week or two after Delilah's birthday, but after hearing of Joshua's ship out day they decided to visit the week of Delilah's birthday instead. Seven family members were coming to the party now. Instead of a quiet day with just Joshua, Delilah, and I, we were now having a birthday/going away party for Joshua. Joshua's family stayed in an Airbnb nearby to give our two households some space.
Joshua's family planned to arrive in the late afternoon so I offered to take care of dinner for everyone. Being the overzealous person that I am, I planned to make my jalapeno popper stuffed cheeseburgers for the family. A hefty task, but also one I could prepare for ahead of time. However, when I planned this I forgot that I was also making a smash cake for Delilah and a larger cake for the family. Thankfully, they arrived later than we expected, so everything was prepped and we were just happy to see them.
I didn't have a plan for Delilah's birthday party the next, but I had a long to do list. I woke up early in the morning to finish making the cakes, then l needed to wrap presents, plus get myself and Delilah dressed up for pictures. There wasn't a plan for the day which made things kind of difficult because everyone wanted to know what we were doing. I knew we would still go to the park, that we'd have Southpaw's Pizza for dinner (Delilah loves the garlic parmesan rolls), and that there would be cake and presents. Plus, Joshua planned to go out shooting with his brothers for a little guy time before he left.
When Delilah took her first nap, I was able to get myself ready. When she woke up, I got her dressed in her special birthday outfit and by then Joshua's family arrived from their Airbnb. Joshua took her outside to visit while I wrapped the presents. Once I had my to do list done I could finally have a clear enough mind to think about what I wanted to do for the day. I decided I could fit everything into the day if the guys went out while Joshua's sister-in-law and I took the kids to the park. Then we could meet back up for dinner and the rest of the festivities.
We took the kids to Pioneer Park in Brownsville and they had a blast. Delilah has loved the swings ever since she was old enough to fit in one but now that she's walking we were able to take her up on the play structure. She loved standing up high with her aunt and smiling down at me on the ground below her. She also loved walking through the woodchips. She would sit down in them and pile them up in her lap. She would even stick them in her shoes. I swear she was saving them for later!
After the park we went home to meet for dinner. While we were sorting that out all the kids watched a movie together and took a good nap. By the time we coordinated everything and had dinner it was pretty late, but Delilah was in a great mood after her nap. After dinner, Delilah opened presents. It was a blast! Delilah is still figuring out how wrapping paper works, but she loves bows! It was so fun to have her older cousins here helping her open her gifts.
All of the hullabaloo from the presents was a little overwhelming for Delilah so by the time we got to cake she was a little fussy. She also didn't like all the attention of everyone singing and looking at her. She liked the strawberries on top but I don't think she ate a single bite of her cake. Her favorite part was giving me handfuls of her cake and then taking them back when my hand got full.
All in all, Delilah's birthday was so much more hectic than I ever planned, but it was also wonderful. To have her surrounded by so much love on her special day was greater than I ever imagined!