Soaking Up the Sunshine
Spring has definitely been in the air these past few weeks, and we're loving every minute of it. The last few weeks of winter and rain always have me feeling gloomy and restless to get outside. As the weather's been getting warmer and sunnier, it's made me realize there was a few things I needed to get Delilah ready for the sunshine season.
Now that Delilah's up and walking all over the place the opportunities for summertime fun are endless, though she needed some new shoes for all this outside fun. I never put shoes on Delilah before she could walk. I had such are hard time finding shoes to fit her, because her feet are short and thick. Any shoe that could fit over her feet ended up being way to long, and whenever I could manage to get some shoes on her, she had them off in a matter of seconds.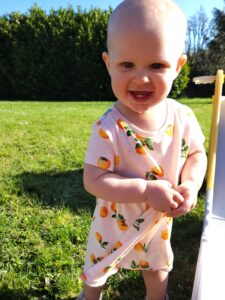 Delilah also dislikes socks so we were in for double the trouble. Now that she's going outside more often we had to figure out something to cover her little feet. I tried putting her feet in the last little pair of baby shoes we had and they were obviously not made for going outside in Oregon in the springtime. In just a minute of walking through the grass they were covered in mud and filthy. It was time to upgrade to some toddler shoes.
While out shopping, I couldn't find any girls shoes that weren't unicorn-themed (not my favorite trend if I'm being honest) or white canvas shoes that would be stained and muddy in a second.
It just so happened that one morning at the retail store where I work, I unboxed a whole bunch of jelly sandals for toddlers. They were also strawberry scented for some reason and I thought that was just the cutest thing. I bought the smallest size and tried them on her as soon as I got home. This girl now loves these shoes! They actually stay on her feet and she will bring them to me to tell me that she wants to go play outside. And because they're made of plastic there's no stains and they're super easy to clean.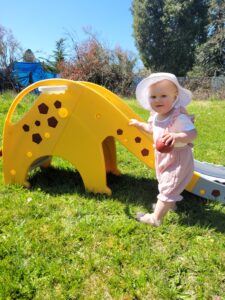 On the first day that was and almost 70 degrees, I started thinking about protecting Delilah from the sun this season. I get sunburned from even thinking about going outside without sunscreen and if Delilah's anything like me she'll be the same. I bought some good sunscreen and got out all the cute sun hats we had waiting in the drawer for the rains to end. Now if she's going outside for longer than a few minutes, she has both of them on. She doesn't like to leave the hats on of course but I've learned that when she's distracted and having fun on her slide or picking flowers I can actually get it back on her for a bit.
As I look ahead to summer, I have been trying to find the perfect inflatable pool for her – I can't decide if I want to get her the one with the whale sprinkler or the dinosaur sprinkler! Thinking about a pool also means finding the right swimsuit for her. I wanted to find one with sleeves for a little extra sun protection, and my mom found some cute swimsuit sets like these at Costco. They were exactly what I wanted – a long sleeve swimsuit with a matching skirt and hat to keep as much of her skin as possible protected from the sun! The weather's not quite ready for us to try it out yet, but we'll be ready when it is!
Watching Delilah explore around our yard brought my mind to safety and keeping Delilah safe in public spaces. I'm talking about safety backpacks and straps. This topic can get a little heated among parents, and it's really about the parents' comfort level, but personally I bought one.
We like to go many places and do activities as a family, and I want to give Delilah the freedom to explore her surroundings as safely as possible. She's still a little young but there have already been times where we've been out shopping and she doesn't want to be held or ride in the cart. She wants to walk! Who knows, we may end up not using it but it's worth a try to keep her safe!