A Day in the Life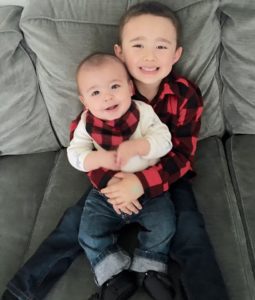 A day in the life of a parent is never quite the same two days in a row. Some days are better than others, when everything seems to be running smoothly without any hiccups. Other days… things are really hard.  I'm thankful that on a typical day, things are somewhere in-between:
Shirley's Day –
6:00 AM- Wake up, daily devotional, get started on breakfast, pack lunches, get kids outfits ready for the day, get ready
6:30 AM- Grandma arrives to watch Samuel
7:00 AM- Karson wakes up, get dressed, breakfast
7:30 AM- Leave for school & work
8:30 AM- Work
————work day————–
5:30 PM- Get home, take Grandma Abuela home
5:45 PM- Cook dinner, feed dogs, check mail, check Karson's backpack
7:00 PM- Late dinner (due to T-ball)
8:00 PM- Get Samuel ready for bed
8:30 PM- Clean, email, prep for tomorrow
9:00 PM- Workout/read to help shut my brain off
10:00 PM- Sleep
Kody's Day –
4:00 AM- Wake Up, shower, breakfast, feed dogs
5:30 AM- Start Work
————-work day————-
4:30 PM- Get off from work, go home
5:15 PM- Get home get snacks, pack up Samuel & Karson, take Karson to T-ball
5:30 PM – Karson's T-ball
6:30 PM- T-ball is over, go home
7:00 PM- Late dinner
7:45 PM- Start bedtime routine for the kids
8:00 PM- Karson in bed, read, talk about day, talk about positive things, pray
8:30 PM- Get ready for bed
9:00 PM- Sleep
This is what a good day looks like for us. There was a hard day last week when I had to take Samuel to Urgent Care because he was having a hard time breathing. We had an awesome doctor that made this experience the best it could be (thank you, Sam Health). I was in Urgent Care until 9:30pm which delayed bedtime. When bedtime gets delayed for my kindergartener, mornings aren't as smooth: tears, not wanting to go to school, etc. I am very firm on bedtime because school attendance is important to me. My husband, Kody took the day off after the incident to make sure Samuel had his breathing treatments done.
My mom comes over to watch my little one, Samuel. She does not have her driver's license so my older sister drops her off in the morning before she goes to work. After I get home I take my mom home. She helps me out and I pay her a fraction of what child care costs. This enables me to work and for my mom to have a "job" too. If she is not available I have my both of my sisters-in-law that I can ask or my sister Martha. I am very thankful for my family and having their support.
I am thankful for family, healthcare, a roof over our head, and for paid sick leave. The early years of our children's lives take so much energy but I absolutely love being a mom. I am so thankful to be able to live where I do.