A Healthy Summer of Fun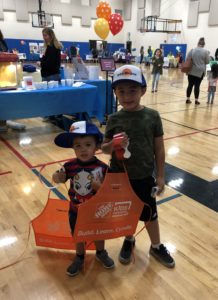 I absolutely love our Oregon summers for many reasons including, sunshine, playing in the water, being outside and having more freedom in our schedules due to no school. I am a planner and start thinking about summer in March, at the same time I look out for summer activities to sign the kids up. Last summer my oldest son Karson did about six different summer camps and I will admit it, I may have gone a little overboard. He did enjoy it but my husband really likes the freedom of summer by having the ability to do more spontaneous spur of the moment activities without a schedule. This summer I have three scheduled camps for my son and a reading program. I think that is a good balance honoring everyone's input.
If you are looking for summer activities for your children here is a list of places to ask for resources:
School– Many organizations share information at schools
Library – There are lots summer reading programs, and some include freebies and reading trackers
City – If you live in a city, ask for their summer activity guide or for Parks & Rec info
Churches – Many churches have free or low cost activities during the summer months
Last summer one of the activities everyone enjoyed the most was packing a snack picnic, a blanket, a couple of books and going to a local river to play near the water. Luckily, we live near a river with an easy access bank where the water is very shallow, slow moving, and there is plenty of shade. Both of my boys really enjoy looking for unique rocks, digging for bugs, and dipping their toes in the water. It is nice to have a safe area to play in.  Having said that, I always pack:
Water
Snacks
Life-jackets
Sunscreen
We now have a great play area in our backyard and have sunscreen right by the backdoor. It has become a habit that the boys apply sunscreen before they go out. I have a darker complexion thanks to my Mexican parents and my husband has lighter skin that burns more easily. My husband has family members that have had skin cancer, so I am doubly cautious. Even though my children have our combination of skin that does not burn easily, I take sun protection seriously. At pediatrician appointments, I point out any moles for the doctor to look at.  Other aides in sun protection include:
To make sure that summer is also fun for everyone, don't forget to have extra food and water, and remember that those little bodies need plenty of rest—and moms too! If you are interested in the USDA summer food lunch program click here. If you would like more ideas for summer activities, here is the ultimate summer bucket list.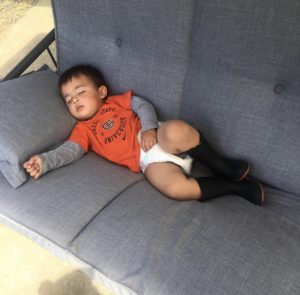 I will be honest; I am looking forward to enjoying some rest and relaxation on my back porch as I watch my children play in the sun while sipping on iced tea. I hope that all parents out there schedule in time to unwind a little as well and enjoy the serenity of summer!
—–
Are you interested in learning more about health observances in May? Check out these links!
Skin Cancer Prevention Month – American Academy of Dermatology 
Heat Safety Awareness – National Weather Service Safety 
Healthy and Safe Swimming Week – Centers for Disease Control and Prevention