Safe Summer Swimming
Summer was kick started by my last blog, The Outdoors: Family Health & Fitness. Now that summer is in full force, I would like to write about safe swimming.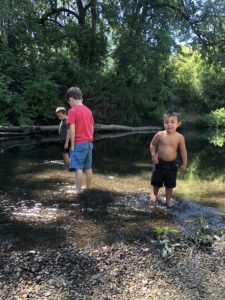 I was curious to know what percent of Oregon's geographical area is made up of water. According to the U.S. Geographical Survey site I was surprised to find out only 2.4% of Oregon's makeup is water. Regardless of the low percentage of water, swimming remains a summer activity with high engagement.  As in past years, I plan to take the kids to Otter Beach. I can personally say that a morning swim at the pool ensures a solid afternoon nap for my toddler–which is always a win for mom. Having more than one child to keep an eye on is work. My oldest in general pretty safe and thoughtful in his actions, but there is room for leniency when it comes to safe swimming. Sadly, drowning is the leading cause of causes of death in children in the United States. Here are some reminders and useful tips to help ensure fun and safety:
Prepare– Swim lessons are ideal, S. Coast Guard-approved life jackets, use the restroom before entering the pool, apply sunscreen, drink plenty of fluids
Be present– Maintain constant supervision, use the buddy system to avoid lone swimmers, avoid distractions (put your phone away!), invite another adult to help if you need it
Having a pool at home is another dynamic. For the past six years, I have enjoyed purchasing the small/medium size traditional blue kiddie pool. This year my brave husband bought a larger pool that has a double-inflatable ring. When he first set it up, the dogs ruined it! The second time was a success with the dogs know the pool is off limits to them. Although it is not very deep, I still propped my lawn chair beside the pool to supervise my toddler when he
plays.  Tips and reminders for home pools are as follows:
Security- Depending on the size of the pool, an isolation fence may be appropriate, for above-ground pools when not supervising pool, remove steps/ladders/chair that may be used for access, install covers or alarms for the door that goes out to the pool
Guidelines- Have some household rules to guide safe behavior, ex. no wrestling in the pool, always let an adult know, use a buddy, no food or drinks in the pool, wear a lifejacket
There are lots of outdoor places to play in the water, like rivers, lakes and the beach. Be sure to check out the linked articles below if you are interested in learning more! I also wanted to share water play ideas you can do from home, no pool included. I hope you have a safe summer especially when it comes to water and swimming. Until next time!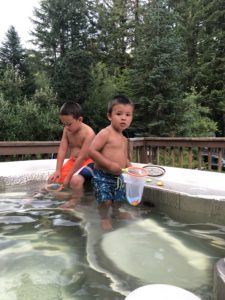 Safe Swimming-
Swimming Safely at the Beach– Learn how to reduce the risks so your family can enjoy swimming in the ocean and open water such as large lakes.
Swimming Safely in Lakes, Rivers & Streams– Swimming in natural water environments is more challenging than home pools. Learn what to do.
Share the Fun, Not the Germs! Swimming is a fun way to be healthy and spend time with family and friends. However, it's important not to swim or let your kids swim if they have diarrhea.
Water Recreation Ideas-
Water Table Kitchen- Summer would not be summer without our water table. I bought ours when my daughter was turning three and now, close to her fourth birthday, she is taller but still enjoys playing with it.
 10 Ways to Learn and Play with Water- In addition to doing simple water activities like a toy car wash or drip painting, I love to find more unique ways to teach simple preschool and kindergarten concepts through water activities!
Sensory Ocean Bin– Cheap Summer Activities for Kids, Set up this summer fun in a flash, most materials are from home.