Red, White & Blue Celebrations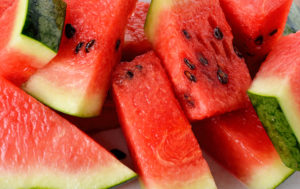 The smell of barbecuing on the grill, sunscreen lathered on the kids, and fresh cut watermelon are more reasons why I enjoy the fourth of July! Along with parades, family, friends and fireworks, it truly is my favorite summer holiday! Not that there are many holidays to compete with in the summer. Regardless I am a girl that likes tradition and loves when my family gets together to celebrate and be thankful for independence and freedom!
This Fourth of July I am very excited because my husband gets the day off so the entire family gets to celebrate.  As in past years, this year we plan to attend the Harrisburg Old Fashioned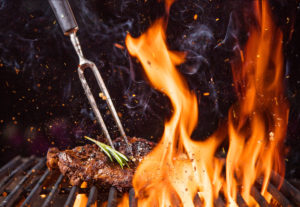 Fourth of July celebrations start with the parade. The kids have enjoyed watching all the beautiful, creative floats, and there are so many different groups that participate in the parade. I really like the farming equipment and horses. It reminds me of growing up on the family farm. My husband enjoys seeing the fancy vintage and muscle cars. There is something for everyone. This year's theme for the festivities is "Celebrating Our Families!" If you want to learn more about the city of Harrisburg's Fourth of July celebrations, here is a link to the schedule. I also recommend their fireworks show in the evening–beautiful!
The night before the fourth, I get things ready for the parade. I used to use the kids stroller, but now I have upgraded to a little wagon to carry all the belongings or a child. I try to coordinate a fun outfit and buy a couple USA flags from Bi-Mart so the kids can wave them around!
As a reminder, here is a Parade Checklist:
Drinking Water
Snacks
Sunscreen + Hats
Chairs/blanket
By the time, we head over to the fireworks show we are all a little tired from the celebrating. I like to dress comfortable and the kids do too. My husband has bought sparklers for the kids to use while we wait for the show to start. If you like to buy lots of fireworks or are interested in safety and laws, click on the hyperlinks. We also take pajamas for the kids because they fall asleep on the way home so it makes their transition to bed easier.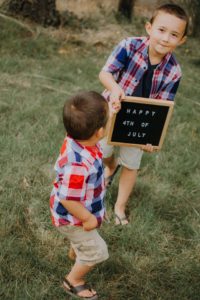 Fireworks show checklist:
Chairs/blankets
Snacks
Pajamas
Toys
Whether you celebrate with parades, firework shows, rodeos, or at the lake I hope your Fourth of July celebrations are fun and exciting! Below I will post local events in our area for you! Happy Independence Day to all!
Linn County*
Brownsville– The tiny hamlet will host an old-fashioned Fourth of July Celebration all day, starting with a big pancake breakfast at 7:00 a.m., filling the daylight hours with kiddie activities, live music and food, and ending with a big-bang fireworks display at dusk.
Lebanon– Big festive Fourth at the Star Spangled Celebration, held in Lebanon, Oregon, at Cheadle Lake Park. There will be lots of musical entertainment, children's activities, face painting, bounce houses, and food booths.
Albany– Outdoor River Rhythms at Monteith Park (alongside the Willamette River) will start the season off with a splash and a bang. The venerable band, The Baha Men, will play their trademark sounds at 7:00 p.m. and a fireworks display will follow the concert.
Harrisburg– Join old and new friends in Harrisburg, where an "Old Fashioned 4th of July" means activity from morning to night! Food, a parade, games, vendors, free entertainment, and of course, fireworks.
Benton County
Enjoy making memories this Independence day in Corvallis.
Corvallis– The firecracker 5k is a family friendly run/walk supporting the Boys & Girls Club of Corvallis. The proceeds from the run/walk go directly to the Summer Club Scholarship Fund at the Boys & Girls Club.
Corvallis– Red white & Blue Riverfront Festival celebrate the nation's birthday on 4th on the downtown banks of the beautiful Willamette River! Bring your family and friends to the Riverfront Commemorative Park on First Street between Van Buren and Monroe Avenues for this fun-filled, family festival featuring live music, a fantastic array of food vendors, S&K Inflatables for the kids, craft booths and much more.
Corvallis– Firework night– at the Corvallis Knights with Oregon State Credit Union on Wednesday July 3rd
Lincoln County
Celebrate Independence Day in Lincoln City. Catch TWO professional firework displays and grab a front-row seat for the parade in Gleneden Beach.
Lincoln City– Devils lake JULY 3RD The evening boat parade and professional firework display over Devils Lake beginning at dusk.
Lincoln City– Siletz bay JULY 4TH Watch 4th of July fireworks over Siletz Bay in Lincoln City, or the free fireworks display over Siletz Bay in the Historic Taft District of Lincoln City beginning at dusk, approximately 10:00/10:30pm.
Newport– Fourth of July Firework Show.
Newport– The Lincoln County Extension 4-H Youth Development Program is excited to be the new organizers of the Lincoln County Fair and looking forward to bringing this important event into a new era. Join us for an Old-Fashioned 4th of July Celebration! Free admission, July 4-7.
Greater Oregon
Oregon Guide– 2019 Fourth of July in Oregon: Your guide to fireworks, parades and rodeos.
Seaside– Every year, Seaside hosts the 4th of July Fireworks Celebration, one of the largest fireworks shows on the West Coast.
Eugene Cascades and Coast– Travel Blog Fourth of July Celebrations & Fireworks
Fourth of July on 362 Miles of Oregon Coast: North, Central and South Coast, 2019. From Brookings to Astoria, the entire Oregon coast will light up with fireworks and other enticing celebrations. Some beach areas even feature their displays on the third of July, allowing for two days of pyrotechnic fun, if you plan it right.
Best 4th of July Family Vacations in Oregon– Known for its beaches, gorgeous natural scenery, and friendly locals, Oregon is a prominent year-round getaway destination. Nicknamed the "Beaver State," this West Coast gem offers an abundance of lovely accommodations ranging from rustic cabins and quiet, spacious houses, to modern lofts and stunning villas overlooking the ocean.

*Source: Albany Visitors.