National Youth Sports Week
Before we call it a summer there are a few more topics to blog about. This week's topic is in honor of National Youth Sports Day and week held July 15-21.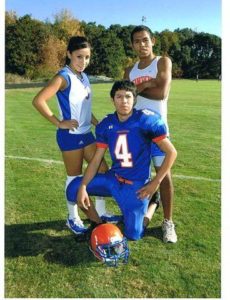 I am happy to write about youth sports. Sports were a big part of my childhood. Both of my parents are Mexican, to me that means soccer (fútbol ) is part of who I am, it is in my blood and it is my favorite sport without discussion. I played soccer with my two brothers–frequently serving as the goalie, my least favorite position. I went to a very small school where soccer was not part of the sports program throughout high school. Regardless, my siblings and I still participated in volleyball, basketball, softball, track and cross-country. Running was my favorite: I love running. Looking back, there are so many awesome memories around sports. I have two very athletic brothers and I enjoyed going to many sports tournaments, cheering them on and getting to travel.
When my son was born, I saved every penny I could and made sure he started "Little Kickers" (soccer) when he was a year old. It was a great thing to do as a parent too because you get to meet other parents and engage with your child in an activity.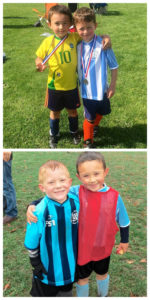 I realized that parenting in the winter is a different dynamic–talk about cabin fever! Going to the park and playing outside is not a great option when it is cold and rainy. Taking my son to his Little Kickers at the Corvallis Sports Park was a great parent-child activity, and it's always warm and dry at the indoor sports park!
I really do believe that sports are extremely beneficial for both parents and children, including:
-Physical strength
-Gross motor skills
-Healthier lungs and heart
-Positive body image
-Social skills/communication
As a parent I have really enjoyed watching the kids play together, learn together, and being able to meet
other parents and socialize with them. We have met friends and other families through sports. It has
been good for me to have a reason to get out of the house and do something positive!
Many times, I think of sports as signing up for something when really you can just get off the couch and go play outside. I remember starting to play catch when my son was a year and a half, then being able to
kick the ball to each other. With time, we have added more technique and we can play a competitive game of one-on-one soccer now. We also like to ride our bikes. Playing sports at home or with neighbors is a great way to engage in physical activity and build relationships. I know both of my sons love to play sports and be outside so it is an easy way to ensure a good time for everyone. I appreciate sports for aiding us in a healthy lifestyle and helping us create memories to cherish for a lifetime.
Here are some ideas to celebrate and participate in sports this week:
10 "Olympic" Sports You Can Play in Your Living Room
Sports Activities & Games for Kids (Including Toddlers)
Five Reasons Why Your Child Should Be Playing Sports
Happy National Youth Sports!