Knowledge of Child Development
The month is nearing an end and the back-to-school days are here or near. This month's protective factor of Knowledge of Parenting and Child Development continues. Last blog I spoke to Knowledge of Parenting. As we parents know, some parts of parenting come naturally and some parts are learned. Personally, parts of parenting that have been learned have a lot to do with child development, this blogs' focus. The better informed I am around understanding appropriate child growth and milestones the more responsive and understanding I am to my children. Knowing timely child growth helps me in creating secure attachment with my sons and encourages brain development.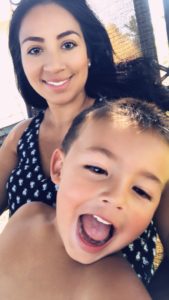 Let's talk about secure attachment and encouraging brain development. How does knowing child growth and development help to create secure attachment? Secure attachment teaches your little one to trust you and in the future to trust other people. Being securely attached aides in brain development in the areas of social and emotional development. Being securely attached is very important for the growth and development as a human, it is fundamental building block.  As parents when we know what to expect appropriate to our child's age we can be more understanding and compassionate. In turn, it helps build trust with our little one.
I remember going to Karson's (my oldest son) pediatric appointments and having to fill out an ASQ questionnaire about what he able do according to his age. This made me think of his fine motor and gross motor skills. In addition, it was questionnaire to aide in further conversation with our pediatrician. If my child had space to work on a skill I would go home and look up ideas to strengthen fine motor skills.
All right now for brain development, brain development it what I learned later on. I was fascinated! Child development made much more sense when I learned more about brain development. One of the fascinating things about brain development that I learned was through Vroom. A baby's brain is wired to grow from birth! It starts off with billions of neurons. During your child's earliest years, their brain makes 1 million neural connections every single second. You can watch a video, here. Your brain is tasked with development in the areas of social, emotional development, communicating, cognitive learning, and relationships.  Healthy brain development are made possible through positive relationships, quality interactions and internal skillsets.
Positive connections help your child's brain grow strong and flexible.
Back-and-forth moments with you build your child's brain in ways that help their learning, health, and behavior both now and in the future.
Building life skills like focus, self-control, problem-solving, and taking on challenges in their early years helps your child today and later in life. Share the joy of learning with your child now while you prepare them for tomorrow. Studies show that school readiness and success, better health, and stable finances in adulthood are tied to having good life skills.
If you would like tips to help you turn ordinary or fussy times or to help you do more with your shared moments. Please check out Vroom– a birth to five tool that teaches you and your child skills through a free resource app and tip cars.
As always, I recommend classes and workshops listed here.
If you are interested in reading more about Child Growth and Development check out these websites!
Ages & Stages Child Development– Your Child's Growth and Development Why should you know about your child's growth and development? You want the very best for your child — every parent does. But raising a child can be overwhelming.
CDC's Developmental Milestones– Skills such as taking a first step, smiling for the first time, and waving "bye bye" are called developmental milestones. Children reach milestones in how they play, learn, speak, act, and move (crawling, walking, etc.).
BabyCenter– Find information from on pregnancy, children's health, parenting & more, including expert advice & weekly newsletters that detail your child's every stage of child development.