Camping: A Family Adventure
The outdoors has been part of my life as far back as I can remember. I absolutely love Oregon's nature and being outdoors.
Camping adventures are cherished childhood memories. Now I get to make new camping memories with my children. I have to admit that camping as a mom with small children was not something I initially enjoyed. It was not fun to start off but now I've figured out how to make it enjoyable.
My first camping trip as a new mom was when my first son was four months old. I remember packing a lot of baby gear – jogging stroller, front pack, diapers, wipes, and so on. I was so focused on making sure we didn't forget anything that I didn't even think of activities to enjoy. To make it more interesting, we were camping at a place that I had never been to before.
I remember going on a hike while camping. I decided to take the jogging stroller since it has good tires the terrain was a bit rough. It was a very hot day during August in Central Oregon, and the dirt was gritty and extra dry and dusty. Part of the trail had about a 45-degree slope to it. The angle combined with the dry, sandy ground made it very difficult to push the jogging stroller since the tires were sliding down towards the lake and not going forward very easily.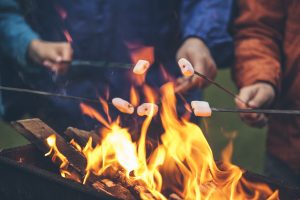 I dreaded the rest of the hike and just wanted to be back at camp and I regret not asking for help so I could enjoy the scenic hike more. I learned that the jogging stroller was not the best choice of baby gear, and the front pack would have been a better choice. I could go on about this first camping trip, but these were my takeaways:
1. When camping with your baby or small child, consider going to a campground that you are familiar with or have researched thoroughly so that you can enjoy it and plan activities that you will appreciate.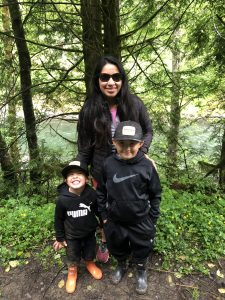 2. Pick a camp location that is family friendly. I like going to places where accessing water channels is child friendly. Camping places where access to bodies of water are steep and abrupt rob my peace. When I go camping I want to be laid back and enjoy the outdoors. I don't want to worry about my child falling into deep water.
3. Keep packing as simple as possible. I used to over pack and that made prepping for camping more daunting. Now keep it as simple as possible and I love getting to pack comfortable clothes! That is what makes camping fun, going back to the basics- in nature.
4. Plan out your meals so you have everything you need – and don't forget the foil! Foil makes it easy to cook meals over the fire and keeps food warm. Possibilities with foil are endless.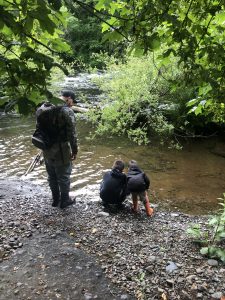 5. Ask for help with camping gear. There is basic camping gear required, and I recommend asking family and friends  for gear if you don't have any. When I was in college I shared my sleeping bag with my roommates. I borrowed my dad's camp stove. My husband is an avid outdoorsman, so he has the camping items covered. In the summer you can find camping gear at garage sales, and the Facebook virtual garage sale is a great resource to find items.
6. Have good communication with your partner about things to do and expectations. And ask your children what one activity they wish to do. This ensures a good time for the entire family. My older son likes to look for critters in the river like bugs, crawdads, salamanders, and fish. We purchased a net from the children's toy aisle at the dollar tree. It was the best dollar investment ever! My son loves using it and it is a must-have for children for summer and camping. The net has been used for catching bugs, collecting floating sticks in the river, and sometimes for landing a fish when fishing.
Camping really should be enjoyable as much as possible. Camping with young children is demanding but it gives everyone an opportunity to explore and enjoy nature, individually and together. For instance, my husband likes to wake up early and go out fishing. He is able to get some alone time with peace and quiet while doing something he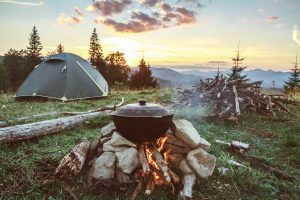 loves. I like to take a book to read and take naps. These are opportunities for me to have rest, relaxation, and peace. As a family we enjoy meals around the campfire, roasting marshmallows and hiking together.
It's important to be well-informed about camping right now so be sure to check with your local, county, and state guidelines about what's open and other regulations. During the first part of quarantine, my son asked to camp in the backyard, which is also a great camping possibility!
Check out the links below for more inspiring ideas in relation to camping:
Minimalist Family Camping
The Ultimate Guide to Camping with Kids
How to Campy and Actually Enjoy It