Simplicity This Summer
If you've been reading my blog for a while, you know I am very open about being bicultural. I grew up with  traditions, foods, and ways of doing things that are different than most folks within my community. I can't say that my parents were perfect but they were pretty awesome in living out our beautiful Mexican traditions. My life as a working mom with two children, and a very large extended family life, was busy with school, work, sports, and family celebrations before COVID-19. As the pandemic closed things down, I had a lot more time and fewer commitments. During this time my life has become simpler, and that reminds me of my childhood.
My childhood consisted of humble beginnings. We weren't materialistic and we didn't have anything fancy. My parents were the type that lived within their means. For instance, my dad has a very basic closet – work jeans and Sundays jeans, shirts, and well, not a whole lot more besides necessities. He doesn't shop often and is the kind of guy that buys a high-quality piece of clothing like boots maybe once a year. And my mother wouldn't know a name brand piece of clothing or purse if her life depended on it. She is
a very simple, small town person and has always been a hard worker. She didn't paint her nails and very seldom went to the salon to get primped. Looking back, I admire her simple nature as she raised
four children. Our food was very simple too, and there was always beans and rice available. I remember wanting pop tarts as a child and my mom never purchased them because they were too expensive and not healthy. It makes me laugh now to remember. I wanted to have more mainstream, processed foods but my mom did her best, and it was the best. She kept a vegetable garden and made homemade salsas and tortillas. You can't get fresher or better ingredients than homemade meals. I had simple, nutritious, and tasty foods made with love.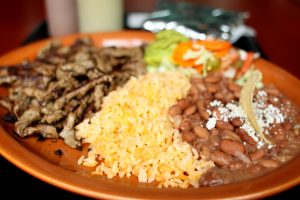 When the quarantine started I went back to my roots and started cooking more than usual. I was home more than before and I had more time to be in the kitchen. My family has really appreciated the homemade meals. And making beans and rice on a regular basis has reminded me that good things are simple. Any foodie knows beans and rice are a complete protein that contain all nine amino acids. Plus, they are affordable. When I start thinking about it simple things are very attainable in life.
Before COVID-19, sometimes I would swing by TJ Maxx to let the kids pick out a toy. Now, they get the backyard, which is full of sticks, bugs, and greenery. To be honest, they are pretty happy to be home and we all are content with fewer commitments and more simplicity. In my childhood, we didn't have a play room full of toys. We had nature and each other for entertainment and we made lots of wonderful memories as a family. This time at home has served me well to rethink my focus and reorder my priorities in life.
About a month ago, I was feeling anxious. I was overthinking and questioning many things. My questions
were:
– What is school going to look like in the fall?
– What is childcare going to be like?
– What is life going to look like going forward?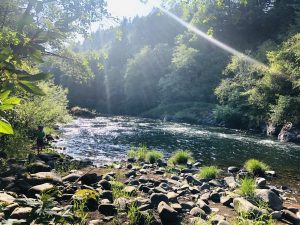 Then there was social media, where my newsfeed was flooded with fear and division. I deactivated my social media account well over a month ago, which has left me with less things to worry about and more peace. I was reminded of how important it is for me, as a mom, to be mentally healthy for my children and our family. The questions and overthinking leave me anxious and worried. But the truth is no one knows and that is okay. I can only be in the moment and most all moments I have what I need. Living in the moment, and by the day, during this time has been  helpful.
I enjoy planning, but planning for the long term is challenging right now. Planning for the day or week is more realistic. It is helpful to channel my planning energy into daily and weekly routines. By remembering to keep my thoughts simple, my actions simple, and my hopes simple I have ease and peace. I trust that we will continue to try to do our best and if we learn to do better, we will do better. There are many simple things in life to be thankful for, and appreciating the tiny little things in life has been helpful. Here is a list of recent things that I have enjoyed:

– Drinking my warm cup of coffee in the morning
– Soaking in a hug from my son
– Listening to the birds sing
– Feeling the warmth of summer sunshine
– Celebrating a productive day working from home
– Being more attentive to my children
– Eating ice-cream
– Going on a walk
I hope you can still savor this summer, engaging in simple activities.
The Beauty of Simplicity — Living a Simpler Life 
The 10 Most Important Things to Simplify in Your Life
Being More with Less- Simplicity is Not a Destination