Family Closeness and Support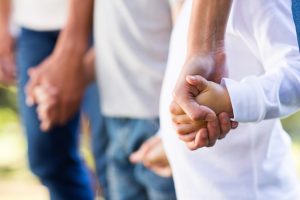 One of the values I have consistently had in my heart is family. I grew up in a traditional Mexican family that shared many celebrations with both immediate and extended family. Celebrations were large, with guests spanning from newborn third cousins to great-grandparents. I was very fortunate to grow up with two brothers and a sister. We were all very close in age as my parents had four children within six years. If one sibling wasn't available for play there was always another one for companionship.
When I met my now husband Kody, he too valued family. Over the years both of our families have been very supportive as we became parents and have grown over the years. Knowing that we can count on our families for support has been a great blessing! Early on I remember the beautifully decorated and well-planned baby showers I was given by my mother, sister and mother-in-law. In the newborn days I remember calling my sister and mom over so that I could nap. To this day my mom still comes over to help with housework. My sister will swing by to pick the kids for an ice-cream run. Over the years I have been able to count on my mother-in-law for date night coverage when it comes to the kids. Her good taste in children's clothing guarantees nice outfits for my sons.
Our families have helped with housing. Recently we have hand many helping hands over as we redid the siding on our house. My sons love it when their uncles and grandpas come over. It has been great to have so many loving relationships in my children's lives. Much of my family is in the agriculture industry which means in the summer I get piles of fruits and veggies from local harvests. One day my uncle dropped off blueberries, the next week we had fresh corn brought to us, and then we got blackberries from my father-in-law. I really do believe it takes a village to raise a well-rounded healthy individual, and I have appreciated all of the family support we have received through immediate and extended family.
While having healthy family relationships is ideal, it is not always the case. Being able to have a sense of belonging with family and to have family be an added support does require healthy individuals. Here is a list of healthy characteristics in a person:
Understanding– When I think of family members that are warm and approachable the characteristic of being understanding comes to mind. Understanding goes hand in hand with patience and gentleness.
Generous– Sharing time, resources, or skills are some examples of how a person can give. My children enjoy when they get a visit from their auntie or when their uncle teaches them how to catch a frog.
Flexible– Having a family is not an easy task. When people are able to be accommodating and adjust to changes it makes it easier than rigid behavior and expectations.
Respectful – Being polite and thoughtful goes a long way. Being able to respect is having good self-control of what to say/not say, what to do/or not do. This goes hand-in-hand with having good boundaries of one's actions and not interfering with another person's boundaries.
While a healthy well-balanced individual is admirable, the reality is that we are humans and can make mistakes.
This is where communications becomes so important. Good communication maintains good relationships and can help clear up confusion. Sometimes talking through things seems intimidating or not worth it. I believe being honest and open through difficult conversations is respectable and admirable. Plus, the benefits of being understood, heard and maintaining a quality relationship with family members is worth it!
Through the years my family and I have been able to help support each other in struggles, in joys, and in celebrations!  A strong family foundation with values gives you a sense of belonging. Having a group to share values is place for children to learn positive behaviors.  Some of those values could include a work ethic, compassion, empathy, the value of meal times together, etc.  Whether or not family has been a cherished value to you or not, you can always adopt the value or renew your commitment to family. Below I have linked articles to how to have a solid family foundation, how to choose values for your family and good communication.
As I have spent more and more time with family and realized how important family is to me I will be working on renewing my commitment to my family while continuing to work on being a healthy individual. Until next time!
What are your family's top 5 moral values?
Family values: what values should I instill in my family?
Children & parenting: communication
Families first-keys to successful family functioning: Communication
10 important family values to uphold for a family