The Hardest and Best Parts of Parenting
Being a parent is awesome but it definitely has challenges. I want to share with you the hardest parts of parenting and the best parts of parenting. First off, let me give you some background. 
I grew up on a farm with a very agriculture-centered family and community. Both of my parents are immigrants from Mexico so I learned Spanish at home. I also learned many Mexican traditions based on our culture and Catholicism. I grew up bilingual and bicultural.  
My husband Kody grew up speaking English in a typical household with two working parents. He shared many outdoor family adventures with his family and his hobbies range from playing sports to doing many outdoor activities. 
As you may be able to tell, my husband and I had very different families of origin. Even though we grew up in the same county in Oregon, our households, traditions, and customs vary a lot. I would say this is the hardest part of parenting for me. When it comes to teaching my children Spanish or keeping parts of our Mexican culture alive, I have felt alone. Even though I have a spouse, I have to put in major effort to ensure my child has certain skills or knowledge. I am sure many parents can relate. We each have things we want our children to learn and sometimes our partners don't value it the way we do.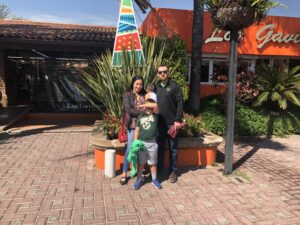 One solution that I've found that alleviates some of the pressure I feel is to build a community around a certain topic. With Spanish, for instance, I have many relatives and friends that speak and value Spanish and hanging around them with the kids makes this easier. Other topics that are very important to me are soccer and my Catholic faith. Thankfully, I have also been able to build community around these things, resulting in knowing people that are interested in and appreciate the things that I value. And that has resulted in my children having friends that also cherish Spanish, soccer, and their faith. Building communities helps me to feel less alone.
Now, let me tell you what is the best part of parenting to me. Although my spouse and I do not share every favorite interest we do share some important ones.
We both value family, although this looks different for each of us. My husband spent many holidays, celebrations, and free-time with his grandparents while growing up. For me, all of my grandparents lived in Mexico so visiting them was a big deal, not very frequent, and it required an international trip every other year. Being able to have my children be around so many family members and grandparents has been awesome! It was something I always wanted when I was growing up and now I get to see that in my children's lives. We both come from large families and although it is not perfect we try our best to balance it out so that our children have loving relationships with family.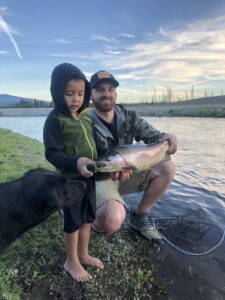 We both value the outdoors. Again, this is different because I grew up on a farm and my husband grew up accessing the outdoors. We enjoy the outdoors by visiting my dad's farm and going on outdoor adventures as a family. We have seen so much wildlife as a family – elk, deer, bear, turkeys, cougars, bobcats, wolves, and the list goes on. This was the norm for me growing up in Oregon and we are glad that is true for our sons. I have to say that my husband takes the win for being more outdoorsy than I am. Through him I have been introduced to more intense outdoors activities than most. Again, it is a balancing act. I am happy to take a book to read while he fishes and the children fish or collect rocks.
We both value life. What does this mean? Let me try to explain – like everyone, Kody and I have disagreements and conflicts between us. But at the end of the day we both try to persevere and enjoy life. Time is valuable and we try to make the best of it for ourselves and for our children. There will always be problems or issues and its up to us to not focus on them beyond trying to problem solve. Instead focus on what we can do to have fun, make good memories, and persevere. Sometimes this looks like going to the park with the kids to get out of the house, or seeing if we can meditate as a family for two minutes, or going to the river, or sometimes it's getting a tub of Lochmead ice cream. 
The last part I would share about the positive side to parenting is being able to see my children have different experiences than I did as a child. Not sharing all hobbies and interests with my spouse has a good side. We appreciate that he shares his interests with the family. I don't think I would elk hunt but Kody does which means we get to be part of the experience. The children love being able to eat wild organic game. My family likes trying all the deer pepperoni and bear sausage from Kody's hunts.
Parenting is not easy but it is very rewarding. I think every parent wants the best possible for their children. For me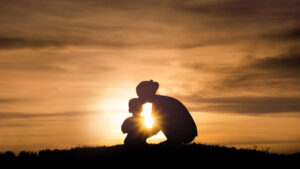 what has worked is not focusing on problems and instead focusing on the positive aspects of life and amplifying the good. The most effective strategy has been asking myself, "How can I make this fun or more enjoyable for my children?"
With that, I hope you enjoy parenting and have fun while you are at it!