Holiday Traditions
I may be a few days late, but to me it's still the holiday season even after New Year's Day! While we're not the craziest family when it comes to holiday traditions, there are still some that have been a part of my life for as long as I can remember. Now that I have a little one of my own, I've been thinking a lot about traditions and which ones I want to share with Delilah. The traditions we have around the holidays are what make it feel like such a special time. So, I thought it would be fun to share some of my lifelong holiday traditions, along with some new ones I've added as an adult.
Making Handmade Christmas Ornaments
This tradition is one I started doing in recent years. It all began when Joshua and I had our first holiday season in our first apartment. We had a tree, but we only had a few hand-me-down ornaments to decorate it. Being the crafty and frugal person that I believe myself to be, I decided to make us unique ornaments rather than buy them. Since then I've been making new ones of all kinds, from clay to crochet, to add to my collection. In the future, I think Delilah is going to have a blast with this and it will be a way for me to share my love of crafts with her.
Watching the Polar Express
I threw this one in specifically for my mom. The Polar Express in my mom's favorite Christmas movie. As odd as it may sound, I'm not the biggest fan of movies. I probably watch less than ten movies a year and when I do they're always the same movies.  This year my mom watched her favorite holiday movie with Delilah cuddled up with her. So even though movies aren't my favorite, watching the Polar Express can be a special tradition that Delilah shares with her Grandma.
Baking Cookies at Grandma's House
If I had to choose a favorite holiday tradition, it would be baking Christmas cookies at my Grandma's house. Every year, a day or so before Christmas Eve, we go to my Grandma's to make a whole lot of cookies and fudge. I love baking so getting together to make a whole day of it is my perfect idea of a good time. Plus, spending the whole day with my Grandma and my cousins makes it such a fun day. This year felt even more special since my cousin's daughter is old enough to help. It was so much fun to have her help us and I hope to be able to do the same with Delilah when she's a little bigger.
Christmas Eve at Grandma's House
Spending Christmas Eve at my Grandma's house is one of my lifelong traditions. It's one of those traditions that really make it feel like Christmas to me and it kills me when I'm not able to make the trip to California for this one. Before I moved to Oregon, I used to offer to work Christmas morning as long as I was able to have Christmas Eve off. It's very special to spend the day with family, have an amazing meal, and eat all those cookies we baked. Now that we have some little ones in the family sharing this holiday tradition with them makes it even more special.
Matching Christmas Jammies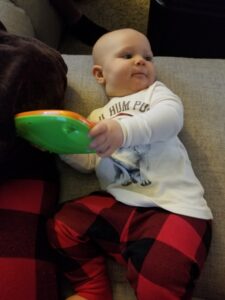 This is a new tradition we started this year with Delilah. I've always wanted to have matching Christmas pajamas and now that we have a little one it felt like the perfect year to start. It's also the perfect year because I happen to work at a retail store that sells matching pug pajamas! I really hope to continue this tradition because it would be great to do a family picture every year in our matching pajamas, even if I forgot to take one this year.
Christmas Eve Stories
When my brother and I were little, my mom would read Christmas stories to us on Christmas Eve. After we got home from my Grandma's house and were ready for bed, we would sit on the couch and my mom would read us a pop-up version of The Night Before Christmas and Who's that Knocking on Christmas Eve, by Jan Brett. While it may seem like a small thing, it was the last thing we did before Christmas morning, which made it so exciting. The year I got my first apartment my mom sent me copies of the books so I could still read them on Christmas Eve. Now that I have a baby I am so grateful to have these books to read with her.
Ideas for Future Holidays
Christmas just happens to be my favorite holiday, so naturally I wanted to go big for Delilah's first Christmas, but with traditions rather than gifts. While I love gift giving, it's the traditions that make the holiday season, more than any gift ever could. With my overzealous nature I often tend to get a little disappointed when I'm not able to do everything that I set out to do. Even this year there were more holiday activities I wanted to do with Delilah like decorating gingerbread houses, going all out decorating the house, and doing some kind of Christmas countdown. I had to remind myself that it's okay to slow down and every year we can add as many traditions as we want into the mix. I'm already planning for Christmas 2021!