How to pick and install the right car seat for your baby
Becoming a parent is an amazing adventure, and your little one's safety is super important, especially in the car. Let's talk about how to pick and install the right car seat for your baby!
Step 1: Picking the Perfect Car Seat
Choose a car seat that is right for the child's age and size. There are two main types of car seats for newborns:
Rear-facing infant Car Seat. These car seats are specially designed to cradle your baby in a rear-facing position. They offer maximum support to your baby's head, neck, and spine. With this seat, you can easily carry your baby in and out of the car.
Convertible Car Seat. This seat grows with your baby. It starts as a rear-facing seat and later turns into a front-facing one. It's an excellent long-term option, but remember, you can't carry your baby in it like the infant seat.
Step 2: Checking Safety Stuff
Before you buy, make sure the car seat is safe and approved. All seats that meet U.S. safety have a label on the seat that gives the manufacturer's name, address, and phone number. Car seats have an expiration date. Check the label's expiration date to ensure it's still safe to use. If the seat has been in a crash, don't use it, even if it looks fine.
Step 3: Installing the Car Seat
Did you know that over half of all car seats are not installed correctly? Even the safest car seat can't do its job if installed incorrectly. Here's how:
Read the Manuals. We know reading manuals isn't super fun, but this one's really important! Before putting the car seat in your car, carefully read the instructions that come with your seat and your vehicle's owner's manual. This will help you get everything right.
Install the Base. Rear-facing infant car seats have a base that you put in the car. Use the car's LATCH system (Lower Anchors and Tethers for Children) or seat belt. The base will be snug and won't move more than an inch in any direction.
Buckle Up Your Baby. Put your baby in the car seat, and make sure the harness straps are snug over your child's shoulders and hips. You shouldn't be able to pinch the fabric of the straps. The chest clip should be at the baby's armpit level. Placing it too low or too high can be unsafe.
Check the Angle. Babies have big, heavy heads and weak neck muscles. If the seat isn't angled enough, your little one's chin may be on their chest, which makes breathing difficult.-facing seats should be at about a 45-degree angle for safety. Some seats have an indicator to help you get the angle right.
Step 4: Ask for Help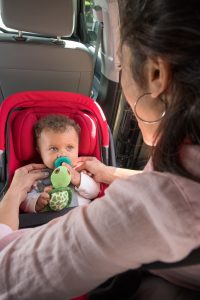 If you're not sure about any of this car seat stuff, don't worry! There are people called experts who can help. They'll show you how to put the seat in and make sure it's super safe. Contact your local fire department, pediatrician's office, or county health department to find out where to get help.
Choosing the right car seat for your newborn and safely installing it is critical to protecting your precious cargo. Take your time, ask questions, and remember you're doing an awesome job keeping your little one safe and sound!
More Resources:
Car Seat Safety Quiz – Test your knowledge about car seats and see how much you know.
Rear-Facing Car Seats for Infants and Toddlers from the American Academy of Pediatrics
Car Seats and Booster Seats from the National Highway Traffic Safety Administration