Adventures in Making Baby Food
At Delilah's last well-baby visit, the doctor gave the go ahead to start feeding her solid food and it has been so exciting!
Two days after her appointment we bought her special bowls and spoons. I planned on trying to make homemade baby food for her, but we also got some oatmeal cereal and jarred baby food to try out in the meantime.
In my last blog I shared that I was worried about what her first solid food should be. I wasn't sure if it should be a vegetable rather than a fruit because of the superstition that fruits make a baby favor sweeter food. In the end I decided on sweet potatoes because they're my favorite, but Joshua had another idea.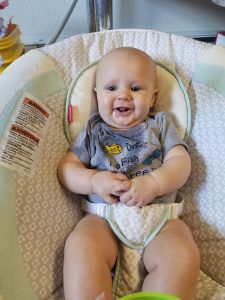 Joshua has gotten way into nutrition recently, so even though sweet potatoes are extremely nutritious he said, "No, her first food should be protein." And that's how we ended up with chicken being the first food she tried. I wasn't sure how to make baby food out of meat so I purchased a jarred one to try out.
To make a long story short, Delilah did not like it. I even mixed in a little breast milk but she wanted nothing to do with chicken. In the end we poured some on her tray to let her play with it, and hopefully some ended up in her mouth.
A day or so later we went to the store to purchase ingredients for making homemade baby food. I decided to start with sweet potato, butternut squash, banana, avocado, apples, carrots, peas and green beans. This might have been a little overzealous, but I really wanted Delilah to be able to try all of the delicious fruits and vegetables that are available.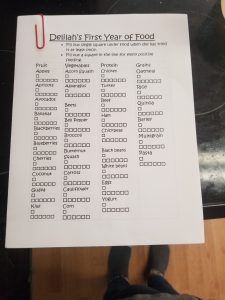 Before I went shopping I started a list of some of the different foods I wanted to make for Delilah (because I'm obsessed with making lists for everything). Well, that's how the list started at least! It ended up a two-page long checklist for the majority of the foods she'd have during her first year, with a box for when she tried the food and a section of boxes for every time she liked the food.
Again, I tend to get a little overzealous when I'm excited about something!
I decided to make her baby food in big batches to freeze in ice cube trays, but I didn't want to get overwhelmed by trying to make them all in one day on top of my regular routine. Plus, I would have run out of ice cube trays and freezer space, so I set a goal of making two or three batches a day.
I started with the banana and avocado since they didn't need to be cooked first. I didn't have a special baby food maker, but my regular blender worked just fine. A little bit of breast milk, formula, or water can be added to each batch to get them to blend down smoother. I also read that adding a little fresh lemon juice into the avocado, banana, and apple baby food helps prevent discoloration, so I tried it in my batches and it seemed to help.
After blending them down I poured them into ice cube trays and covered them with a little plastic wrap and then it was off to the freezer.
For everything else, I diced the foods into small pieces and steamed them over boiling water to cook them. I was surprised at how simple it was. Next time I might try baking the foods like butternut squash and sweet potato.
After I finished making the batches I originally planned, I also ended up making batches of blueberries, apricots, zucchini, and a small batch of strawberries. These were from extra produce we had that needed to be used so I figured why not make more baby food.
I had so much fun making her baby food. I'm giving myself a little break now but I'm already planning the next batch to include peaches, broccoli, cauliflower, yellow squash, mangoes, raspberries, blackberries, and beans for a little extra protein!
We've already gotten into a little routine with adding solid food into Delilah's diet. She still has the same amount of breast milk a day, and we will offer small amounts of solid food two or three times a day.  Right now, I'm not really worried if she isn't interested or doesn't eat much solid food because this is a learning experience for the both of us and she still is getting almost all of her nutrition from breast milk.
It is really fun to feed her and she enjoys it also. She even gets excited now when she sees me holding her spoon, and if I had to pick I'd say banana or butternut squash is her favorite.
So far, she's liked everything we've given her, except the chicken of course!